Experienced Asbestos Abatement Services
Available in Manhattan
UNYSE provides those in Manhattan with expert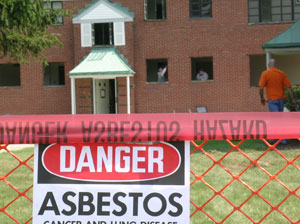 asbestos abatement and remediation services. Required during building maintenance, renovation, demolition or during any other activities that may disturb the material, it's important to find a team trained in handling asbestos.
You'll also want to consider a team capable of handling other services required alongside the abatement. We also offer a complete range of asbestos testing services as an independent consultant to property owners and facility managers.
This includes:
Asbestos inspections
Surveys
Variances
Air sampling
Monitoring
Clearance examinations
Meeting Asbestos Abatement Requirements in Manhattan & NYC
The US Environmental Protection Agency (EPA), US Occupational Safety and Health Administration (OSHA) and the New York State Department of Labor (NYSDOL) have many strict requirements for asbestos abatement and remediation that are based on the friability of the ACM building material and amount of ACM that will be disturbed.
Some requirements are standard on all sites. A restricted containment of the work area is always required and specialized engineering controls and clean-up must be used to meet clearance criteria. Additionally, most projects must be monitored by an independent firm such as UNYSE.
It's important to find a team familiar with these requirements in order to ensure the the work is completed up to code.
Contact Us Today
Contact our team of environmental consultants today to learn more about our asbestos abatement work in Manhattan and our previous experience. We'll be happy to provide you with a quote, available upon request.
Call us today for more information and to speak to a specialist near you 877-466-4429.