Lead Analysis & Inspection Services
Available Across New York State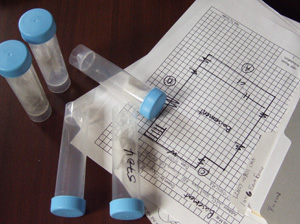 At UNYSE Environmental Consultants, we specialize in lead analysis and testing. Offering a client-oriented approach, we are dedicated to large and small customers while meeting the strictest requirements in lead remediation and lead paint handling.
About Our Lead Analysis Process
As part of our services, UNYSE specializes in lead inspection, risk assessment, project clearance and water sampling, offering a thorough approach to lead safety and cleanup and helping you from start to finish. We work to give you peace of mind that your building is lead-free, taken care of safely and up to code.
We use X-ray fluorescence (XRF), as it is the most efficient method for testing lead paint. Additionally, we use atomic absorption spectroscopy (AAS), as it offers the most effective determination of lead in soil, wipe and low concentrations in paint. We also use inductively coupled plasma (ICP) with greater speed, precision and sensitivity. It's used for detecting low lead concentrations in things like drinking water.
Benefits of UNYSE's Lead Inspectors
We guarantee an efficient turnaround for sample analysis which will assist the consultant, contractor or property owner to complete the lead abatement and remediation. We even offer emergency analysis in some situations along with sample pick-up, consultation and instantaneous online results to help simplify the process. We will also notify you of the results of the lead analysis by phone or email, so you don't have to keep checking back.
Learn More About Our Lead Analysis & Testing Today
Contact our team today for more information about our lead analysis process or to request a quote on our services. We'll be happy to help you, wherever you are in New York State. Get your 24-hour turnaround on your lead sample!
Call us today for more information and to speak to a specialist near you 877-466-4429.
Our Service Areas:
Buffalo
Rochester
And more