Our Asbestos Analysis Service
Serving Across New York State
Due to the dangerous nature of asbestos, it's important to find someone to perform a thorough asbestos analysis or testing on suspected materials. At UNYSE, we offer a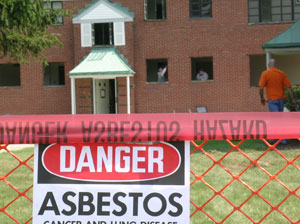 client-oriented approach to environmental testing and analysis, and is dedicated to serving both large and small customers.
Our asbestos analysis utilizes polarized light microscopy (PLM) or a transmission electron microscopy (TEM) to test for the presence of asbestos in building materials, including floor tiles and popcorn ceilings. Phase contrast microscopy (PCM) and transmission electron microscopy (TEM) are used to determine the fiber concentrations of air samples.
From there, we specialize in efficient sample analysis and assist the consultant, contractor or property manager to help complete the required asbestos remediation and abatement to New York State regulations.
About Our New York Asbestos Analysis Services
We are partnered with a network of NYSDOH ELAP, NVLAP, NLLAP and AIHA EMLAP laboratories that meet the most stringent standards for asbestos abatement, remediation and clean-up. We even offer special consideration to "round-the-clock" and emergency asbestos lab analysis. Sample pick-up, consultation and instantaneous online results are standard services as well.
When working with you, we will notify you by email or phone as soon as your laboratory results are available. UNYSE is proud to offer a 24-hour turnaround time on most samples. Drop-off or ship your samples today and have results tomorrow.
Contact Us Today
Contact us today to learn more about our asbestos analysis services. Proudly serving across New York State, we'll be able to help you with asbestos lab samples and more whatever the zip code, from Manhattan and New York City all the way to Buffalo and Western New York.
Call us today for more information and to speak to a specialist near you 877-466-4429.
Our Service Areas:
Albany
Buffalo
Rochester
Syracuse
And More